Gyantsé, Sikkim, 1924
The British subjects in charge of the trading post of Gyantse, in the small Himalayan kingdom of Sikkim, nested between Nepal and Bhutan, cannot believe their eyes. This Tibetan vagrant, emaciated, her face burnt by the mountain sun, introduced herself as the famous Alexandra David-Neel. She announces proudly that she went and sojourned in Lhasa, escorted by her servant turned son Yongden
In October 1924, she left the Chinese province of Yunnan and walked to the West. 2000 kilometers, her and Yongden, mountains passes higher than 5000m, four months in the heart of winter. They walked until they reached Lhasa's gates.
Despite the interdiction for foreigners to visit Lhasa, despite the war unfolding in China, despite having been kicked out from Sikkim in 1916 by the British because she crossed the Tibetan frontier, Alexandra dares claim her success, her revenge.
How did she do it? This crossing in uncharted territories without a map. Where did she find the endurance needed to climb those peaks, to descend in the valleys, to survive the harshness of winter. When the body has grown weak, when the food has run out, how did she keep the implacable will to keep going?
Brussels, Belgium, 1892
Alexandra in Opera costumes (1902)
At her return from her travel in India, Alexandra finishes her first work, never published, the Manifesto of the Rebel (Manifeste de l'Insoumise in French) and, full of her 24 years, she claims:
"Obedience is death! Each instant Man submits himself to an alien will is an instant deducted from his life"
Brutally honest. Flamboyant and revolted. Born into an austere bourgeois family, a lonely and unloved childhood, the young woman does not hide her opinions and her differences. At the end of the 19th century, she dares proclaim her autonomy, far removed from the conjugal and familial life women must submit to.
"How can the happiness of humanity emerge from the suffering of each man? How can freedom for all rise from universal constraint?
Freedom. A life quest that will lead her to the heart of Asia, in the mountains of Himalaya.
Ceylan (Sri Lanka), 1911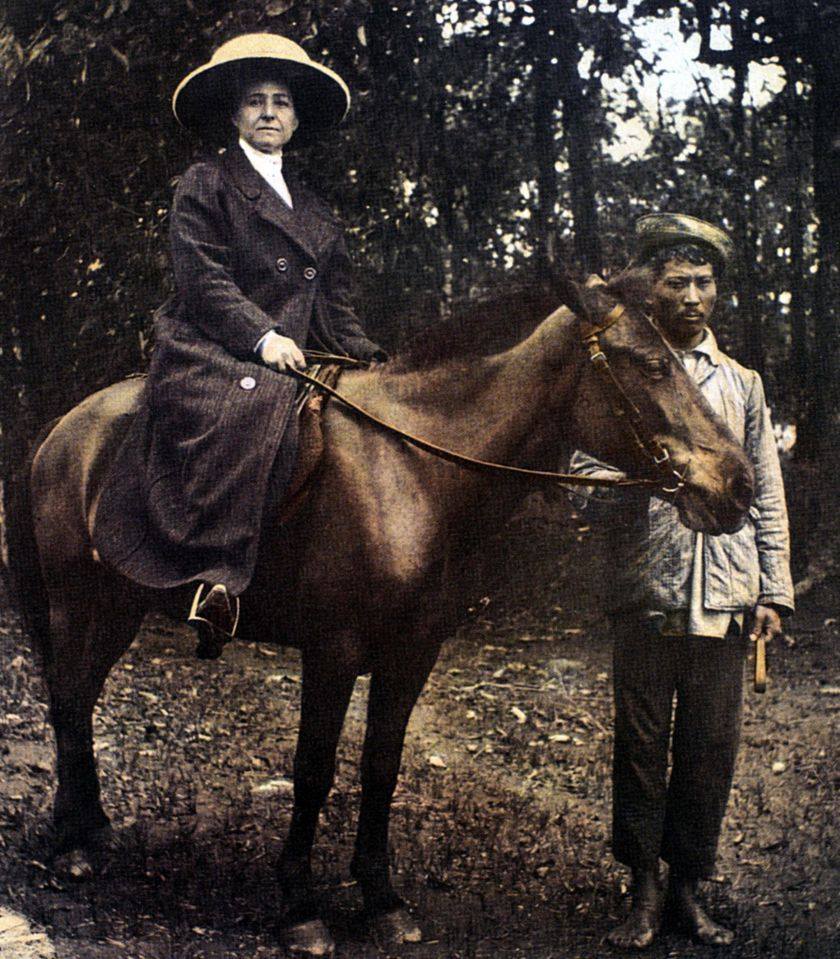 My dear I am a savage, put it through your head. All of Western civilization disgusts me, I only like my tent, my horse and the desert (
Letters to her husband (1911-1917)
Alexandra is finally back in India. She is 43 years old, has already lived through several lives, but never lost the way.
She was an opera singer in Hanoi and Tunis. She was a journalist, a writer, committed to women's rights and freedom of thoughts, militant in masonic and feminist circles. In 1904, she finally married to an engineer, Phillipe Neel, a weakness she almost instantly regretted. Hard to be autonomous and a woman in those times.
But the question of freedom remains. Asia, Buddhism, attract her. In the years after her marriage, she dives deep into Orientalist studies and publishes several articles and studies on Asian religions and philosophies. They live together only some of the time but maintain an active correspondence. Exhausted by their marital problems, she finally decides to leave again for a study trip in 1911, self-financed. She takes the boat with her numerous suitcases in Tunis and says goodbye to her husband. She reassures him she will be back in a couple of months.
From the island of Ceylan, she sojourns in Calcutta among the British bourgeoisie, before heading at horseback to the region of Darjeeling, at the feet of the mountains. From there, she goes to Gangtok, Sikkim's capital, and there everything changes.
14 years will pass before she comes back.
Ashram De-chen, Sikkim, 1915
Alexandra has been in Asia for four years and has finished building her retreat, sitting at 3900m of altitude amid the mountain peaks. Tibet is there, close. She resigned herself a long time again, she will not come back. Despite her husband's supplications in his regular letters, she cannot resolve herself to do it, not in front of these mountains, of this nature.
In 1912 she met Kumar, the son of the maharajah of Sikkim, unexpected gift from Fate, or from Luck. Her sincere friendship with the prince opens her the gate of the religious life in the kingdom. She is even able to meet the 13th Dalai Lama, the spiritual chief of Tibetan Buddhism.
"Ah, understand my dear, in this cavern up there among the peaks, and a wooden bowl to eat my gruel of barley and tea, and on top of that peace, the absence of needs, of hope and fear, unwavering serenity, a head that never bows (…) How can one descend from Thabor after having known extasy, even for a few minutes?"


Letter to Phillipe Neel (14th of December 1914) (own translation from source)



She is the first European and Orientalist woman to study and to experience Buddhism so intimately. In 1914, while war explodes in Europe, Alexandra starts her life at the monastery of Lachen, under the teachings of the head lama, a Buddhist priest, a magician, Gomchen Rinpoche. There she learns Tibetan myths and legends, magic rituals, and the technic to produce internal heat, necessary in winter.
In 1915, after months in the monastery, her decision is made. She will stay here and build her house, a series of wooden cabins in front of a cavern. Despite her seeking material deprivation, she decorates the house with all her treasures, and hires three young men to serve her.
True life can start, true learning.
Lhassa, Tibet capital, 1924
She made it. 10 years almost after the incursion into Tibetan territory that led to her expulsion from Sikkim in 1916, spent wandering in Japan, Korea, China, after 2000km of walking through the mountains in winter, there she is.
Difficult to know what she must have felt at the instant she accomplished her quest. At 56 years old, Alexandra finally reached the city toward which she was headed her whole life. To accomplish this feat, a life worth of teachings had to be polished, all vital energy had to be summoned to answer the call of the soul. To be through the action that places one foot in front of the other, always forward. To be this unbreakable spirit needed to survive ten days in a snow storm, alone with her adoptive son, without food.
What to do now?
Samten Dzong Residence, High Provence, 1969
Alexandra finishes her life at 101 years old, after spending her last years with her help and friend, Marie-Madeleine Peyronnet, after decades more of adventures, exaltation and sadness. When she came back from Lhasa, she received success as a writer, a speaker and famous orientalist. But in 1937 she couldn't resist the call of the road and left for China amid the Sino-Japanese war, at almost 70 years old.
She leaves behind her a substantial collection of works, travel diaries and studies on Asian cultures and religions, especially Tibetan. Today her Samtzen Dong Residence, meaning meditation fortress, is open to the public and the Alexandra David-Neel Association continues to work to conserve the works of this exceptional woman, who lived without compromise, for better and for worse.
Sources
Alexandra David Neel, Exploratrice et féministe – Laure Dominique Agniel
https://www.alexandra-david-neel.fr/
Connaissez-vous Alexandra David Neel (1868-1969) infatigable voyageuse, qui fut cantatrice, journaliste et écrivaine, anarchiste et bouddhiste, la première femme occidentale à atteindre Lhassa en 1924 ?
Gyantsé, Sikkim, 1924.
Les britanniques en poste au comptoir commercial de Gyansté dans le petit royaume himalayen du Sikkim, niché entre le Népal et le Bhoutan, n'en croient pas leurs yeux. Cette mendiante tibétaine, amaigrie, le visage brûlé par le soleil des hauteurs, se présente comme la célèbre Alexandra David-Neel. Accompagnée par son serviteur devenu fils Yongden, elle annonce avec fierté avoir atteint et séjournée à Lhassa.
En octobre 1924, elle est partie du Yunnan chinois et a marché à l'Ouest. 2000 km à deux, des cols à plus de 5000m d'altitude, 4 mois en plein hiver. Jusqu'aux portes de Lhassa.
Alors que la province du Tibet est interdite aux étrangers et la Chine en guerre, alors que les britanniques l'avaient expulsé du Sikkim en 1916 pour avoir franchis la frontière tibétaine, Alexandra ose proclamer son exploit, sa revanche.
Comment l'a-t-elle fait ? Cette traversée en territoire inconnu, non cartographié. Où a-t-elle trouvé l'endurance nécessaire pour gravir ces cols, descendre ces vallées, survivre les rigueurs de l'hiver. Quand le corps est affaibli, quand la nourriture manque, comment garder une volonté implacable ?
Bruxelles, Belgique, 1892
A son retour d'un premier voyage en Inde, Alexandra achève sa première œuvre, non publiée, le Manifeste de l'Insoumise, et proclame du haut de ses 24 ans :
« L'obéissance c'est la mort ! Chaque instant dans lequel l'homme se soumet à une volonté étrangère est un instant retranché à sa vie »
Le ton est annoncé. Haut en couleurs et en révolte. Née dans une famille bourgeoise austère, une enfance malaimée et solitaire, la jeune femme ne cache pas ses opinions, ses différences. En cette fin de 19e siècle, elle proclame son autonomie, loin de la vie conjugale et familiale à laquelle les femmes doivent se soumettre alors. Elle s'interroge :
« Comment de la douleur de chaque homme voulez-vous constituer le bonheur de l'humanité ? Comment de la contrainte universelle pensez vous faire surgir la liberté pour tous ?
La liberté. La quête d'une vie qui la mènera au cœur de l'Asie, dans les montagnes de l'Himalaya.
Ceylan (Sri Lanka), 1911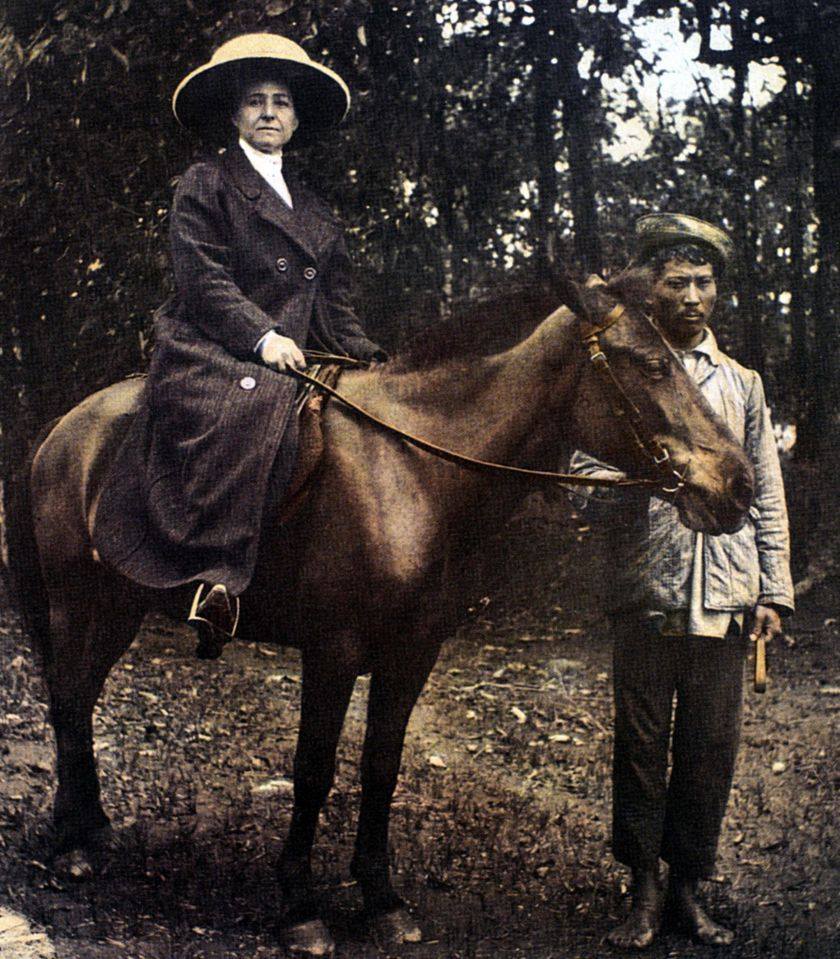 « Je suis une sauvage mon bien cher, mets toi cela en tête. Toute la civilisation occidentale me dégoûte. Je n'aime que ma tente, mes chevaux et le désert. »
Lettres à son mari (1911-1917)
Alexandra est enfin de retour aux Indes. A quarante-trois ans, elle a déjà vécu plusieurs vies, mais n'a jamais perdu le chemin.
Elle a été cantatrice à Hanoï et à Tunis. Elle a été journaliste et écrivaine, engagée pour le droit des femmes et la libre pensée, militante dans les cercles féministes et franc-maçonniques. En 1904, elle s'est finalement mariée avec un ingénieur, Phillipe Neel, faiblesse qu'elle regrettera presque instantanément. Difficile d'être autonome et femme seule en ces temps-là.
Mais la question de la liberté demeure. L'Asie, et le bouddhiste, l'attirent. Dans les années après son mariage, elle se plonge dans les études orientalistes et publie plusieurs articles et études sur les religions et philosophies asiatiques. Ils vivent ensemble par intermittence mais maintiennent une correspondance soutenue. Ne supportant plus les problèmes conjugaux, elle décide en 1911 de repartir pour un voyage d'étude, qu'elle financera elle-même. Elle prend le bateau avec ses nombreuses malles à Tunis et dit au revoir à son mari. Elle lui assure qu'elle reviendra dans quelques mois.
Depuis le Ceylan elle séjourne à Calcutta parmi la bourgeoisie anglaise, avant de rejoindre le Darjeeling à cheval, aux pieds des montagnes. Elle se rend à Gangtok, la capitale en du Sikkim et là tout change.
Elle reviendra 14 ans plus tard.
Ashram De-chen, Sikkim, 1915.
Alexandra est en Asie depuis quatre années déjà et a fini de construire son Hermitage, juché à 3900m dans les cimes. Le Tibet est là, tout proche. Elle s'est décidée il y a longtemps, elle ne rentrera pas. Malgré les implorations de son mari dans leurs lettres régulières, elle ne puit s'y résoudre, pas devant ces montagnes, cette nature.
En 1912, elle rencontra Kumar, le fils du maharajah du Sikkim, cadeau inespéré, du destin, ou de la chance. Sa véritable amitié avec le jeune prince lui ouvre les portes de la vie religieuse du royaume. Elle put même rencontrer le 13e Dalaï-Lama, chef spirituel du bouddhisme tibétain.
Envoutée par les découvertes et l'appel des Himalayas, elle repartit jusqu'à Katmandou et osa traverser brièvement la frontière tibétaine, avant de s'installer dans le royaume sikkimais. Elle écrit à son mari :
« Ah, vois-tu mon grand cher, une caverne là-haut sur les cimes, et une écuelle de bois pour y manger sa bouillie de farine d'orge et de thé, et la paix sur tout cela, l'absence de désirs, d'espoirs et de craintes, la sérénité inébranlable, la tête qui jamais ne se courbe (..) Comment redescendre du Thabor quand on en a savouré l'extase, ne fût que quelques minutes ? »
Lettre à Phillipe Neel (14 Décembre 1914)



Elle est la première femme occidentale, et orientaliste, à étudier et à vivre de façon si intime le bouddhisme. En 1914 alors que la guerre éclate en Europe, Alexandra prend ses quartiers au monastère de Lachen et rentre en apprentissage auprès de son supérieur, un lama, magicien, Gomtpchen Rinpoche. Elle y apprend les mythes et légendes tibétaines, les pratiques spirituelles, les rituels magiques, et la technique de production de chaleur interne, indispensable pour l'hiver.
En 1915, après des mois au monastère, sa décision est prise. Elle s'installera ici et se fait construire sa maison, série de cabanes en bois adossée à une caverne. Malgré ses velléités de dénuement, elle décore et fournit les pièces à vivre avec tous ses trésors accumulés, et recrute trois jeunes hommes comme serviteurs.
La vraie vie peut commencer, le vraie apprentissage.
Lhassa, Capitale du Tibet, 1924.
Elle a réussi. Après presque dix ans depuis son expulsion du Sikkim en 1916 pour avoir oser pénétrer en territoire tibétain, après l'errance au Japon, en Corée, en Chine, après les 2000km de marche à pied dans les montagnes en hiver, elle y est.
Difficile de savoir ce que l'on ressent au moment de l'accomplissement de sa quête. A cinquante-six ans, Alexandra a enfin atteint la ville vers laquelle elle se dirigeait depuis toujours. Pour avoir pu réussir cet exploit, tous les apprentissages d'une vie ont dû être polis, toute l'énergie intérieure mobilisée pour répondre à l'appel de l'âme. Être à travers l'action qui fait placer un pas devant l'autre, toujours en avant. Être cette volonté tendue qui permet de survivre six jours de tempête de neige, bloquée seule avec son fils adoptif, sans nourriture.
Que faire maintenant ?
Résidence Samtzen Dong, Haute-Provence, 1969
Alexandra s'éteint à 101 ans, en compagnie de son amie et aide, Marie-Madeleine Peyronnet, après des décennies de plus remplies d'aventures, d'exaltations et tristesses. A son retour de Lhassa, elle s'était faite admirée comme écrivaine, conférencière et orientaliste de renom. Mais en 1937 elle n'avait pu résister l'appel du large et partit en Chine pour une aventure mouvementée, en pleine guerre sino-japonaise et guerre civile, à presque soixante-dix ans.
Elle laisse derrière elle une œuvre conséquente de récits de voyage et études sur les cultures et religions asiatiques, en particulier tibétaine. Sa résidence de Samtzen dong, forteresse de la méditation, est aujourd'hui ouvert au public et l'association Alexandra David-Neel continue d'œuvrer pour promouvoir l'œuvre de cette femme d'exception, qui vécut sans compromis pour le meilleur et pour le pire.
Sources
Alexandra David Neel, Exploratrice et féministe – Laure Dominique Agniel
https://www.alexandra-david-neel.fr/